Covid - 19 Update
Covid 19 Update
"Unfortunately we have just been informed that a further two members of our school community has received a positive test result for Covid 19. We have already been in contact with all families where their child has had direct contact with this individual. If we have not been in contact with you, your child should come to school as normal, provided they are showing no symptoms of Covid 19 (as outlined by PHA). As a school we are following PHA advice and guidance., and a letter will be issued from HSC to offer further information and advice. We wish to reassure parents/pupils and the wider school community that every precaution has been taken to ensure everyone's safety at this time."
Letter from the Principal
Covid 19 Update
Covid-19 Update 04.11.20 10:05am
"Unfortunately we have just been informed that a further member of our school community has received a positive test result for Covid 19. We have already been in contact with all families where their child has had direct contact with this individual. If we have not been in contact with you, your child should come to school as normal, provided they are showing no symptoms of Covid 19 (as outlined by PHA). As a school we are following PHA advice and guidance., and a letter will be issued from HSC to offer further information and advice. We wish to reassure parents/pupils and the wider school community that every precaution has been taken to ensure everyone's safety at this time."
Information from Parenting NI
Post 16 Transition Advice
Transition Advice Contact Details
Contact: Roisin Kielty (Education Transitions Co-ordinator) 028 82411510 Contact: Janet Stewart (Adult Learning Disability SW) 028 71864362 Contact: Jane Hewitt (Transition Officer Adult Learning Disability Team) 028 71864362 In addition information can be found at
https://www.starsweb.info/
Extended Mid-Term Break
Dear Parent / Carer,
As you will be aware the NI Executive has announced that the mid-term break for schools and other education settings will be extended from Monday 19th October to Friday 30th October (inclusive).
In a letter to schools, the Education Minister, Mr. Peter Weir, has stated that –
"Education settings will be closed to all pupils during these two weeks including for vulnerable children and children of key workers. Schools and other settings will reopen on Monday, 2 November. As this is an extension of the half-term break, it is not intended to be used for remote learning".
Ardnashee School & College has provided a safe learning environment for all of our children and young people and we are disappointed that our term has been cut short with very little notice. However, we respect the NI Executive's decision and support all measures that have been put in place to protect our community.
We look forward to welcoming our pupils back to school in the new term and thank all of you for your continued support and cooperation at this time.
Mr R. McFeeters (Principal)
Notices
New Guidance Letter.
Firstly, I want to say a huge thanks you to our whole school community for making a very successful return to school possible for our pupils. It has been a real joy to see them settling back into school so well and they have shown remarkable resilience in coping with the many changes to school life.
Unfortunately, as you will all be aware we are now facing a period of time when the Covid 19 Virus appears to be on the increase again. Our goal as a school is always to have our pupils in school and try to keep everyone in our school community safe. With this in mind we are asking our whole school community (pupils, parents and staff) to be particularly careful at this time, both inside school and out in the wider community.
In order to keep our pupils as safe as possible we would ask everyone to pull together and adhere strictly to the Public Health Agency and Government guidance on how to stay safe. As a school community we need to obey the guidance and stick to the rules to try to protect everyone.
Many thanks for your continued patience and support during these very challenging times.
Raymond
ASC Restart Programme
ASC Restart Programme
(please click on the link below)
https://drive.google.com/file/d/180z72cQ5123XvztYpjo63gj8GpXG8COm/view?usp=sharing
Ardnashee School & College Uniform
Special Needs Mass and First Communion Update
Earlier in the year parents were given the option to have their child make their First Holy Communion, either at the Special Needs Mass or along with St Patricks Primary School. Because of Covid both of these events were postponed. St Patricks have now released their date (Friday 18th of September). However a date for the Special Needs Mass has not been set yet. We expect this date will be announced soon and will post the details on our website as soon as we have them.
An end of term message from the principal
'Lockdown' by Ciaran and Caitlin
Lockdown Song
'Ardnashee Lockdown Song'
Now you've had a listen. We'd love to hear you singing our Lockdown Song
Why don't you get a parent or guardian to record you singing 'LOCKDOWN'
And send it to ardnasheeschool@gmail.com
Ardnashee Challenge be Creative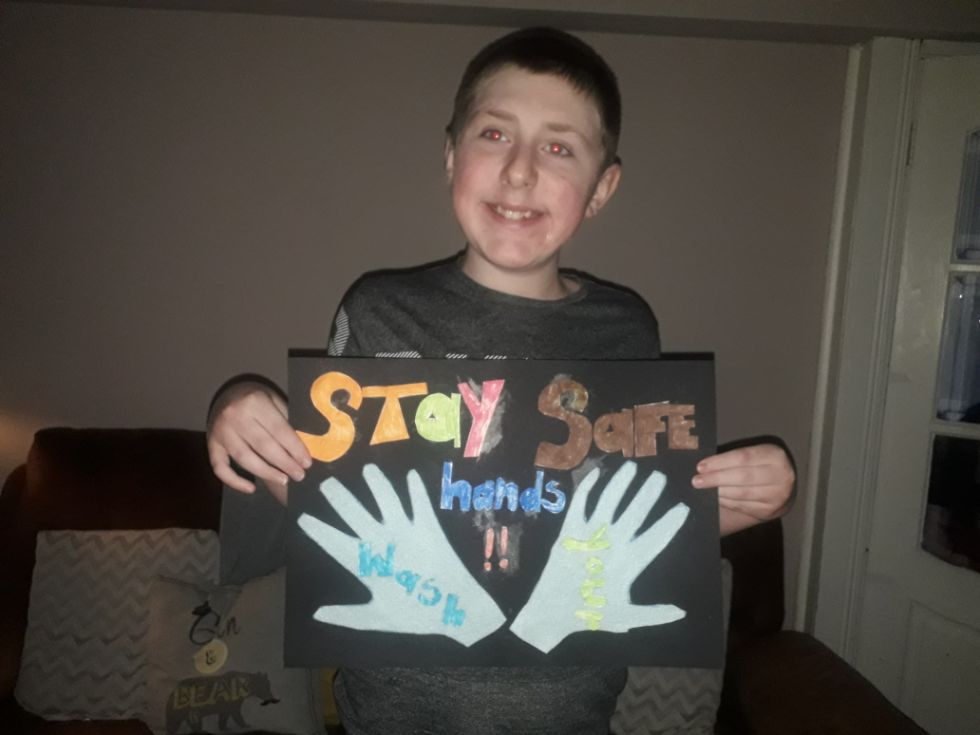 Dylan
Bowie
Bowie
Jessica
Aoibh
Ciaran's Artwork
Ella's Rainbow
Andrew being creative
Niamh's art work
Isla
Beth's Chick !
Beth
Logan
BE CREATIVE!

Send us your amazing photos and videos
Check out all the wonderful work that has been sent in so far.
You can send your work to either of the following emails:
gkennedy849@c2kni.net or sdeery486@c2kni.net
So get your thinking caps on and get your work submitted
Good luck and stay well
Welcome from our Acting Principal
Welcome to Ardnashee School and College, a makaton friendly school! We provide a creative and innovative learning environment where pupils are nurtured and supported to achieve their full potential. We are committed to providing a curriculum that puts creativity at the heart of learning. The staff at Ardnashee School and College work collaboratively with parents, therapists and allied services as well as third party providers in the community to develop personalised learning plans that reflect the needs of pupils as individuals. Ardnashee provides education for pupils age 3 – 19. We have a very successful young enterprise project running every Friday. Hub 17 is lead by post 16 pupils and they provide catering services for the school break time. We are very proud of our pupils and we are excited to be planning for the new school premises. Enjoy your tour of our website! Mr R. Mc Feeters, Acting Principal.
Upcoming Events...
Tuesday, 22nd December 2020
Christmas Holidays
Wednesday, 23rd December 2020
Christmas Holidays
Thursday, 24th December 2020
Christmas Holidays
Friday, 25th December 2020
Christmas Holidays
Saturday, 26th December 2020
Christmas Holidays
Sunday, 27th December 2020
Christmas Holidays
Monday, 28th December 2020
Christmas Holidays
Tuesday, 29th December 2020
Christmas Holidays
Wednesday, 30th December 2020
Christmas Holidays
Thursday, 31st December 2020
Christmas Holidays
Max Fashion
Free School Meals Application Form
Click on the link from EA (below) to apply for free school meals.
Home Learning PowerPoints and Videos for KS3
Home Learning example PowerPoints and Videos for KS3 can be found in Home Learning (password: racecourse) * folder S. McCaul
A message from the Principal to those pupils making their first Holy Communion
Grace gets involved in a street fitness class
Ardnashee Bag Company presents - The Buddy Bag
Transition Class - Memories 2019 - 2020
Making the Headlines
Message from the Orthoptic (Eye) Dept, Altnagelvin
If your child was to have their glasses or vision assessed at school in April, this did not take place due to the Covid 19 pandemic. Once we are back to normal the assessment will take place. Until then, if you have any concerns regarding your child's glasses or vision, please contact me on 028 7161 1424 where you can leave a message and I will get back to you.
Stay safe and hope to see you again soon.
Lisa
Eggs for our NHS Heroes
Ardnashee donates easter eggs to nhs workers
Young Enterprise NI
Welcome
Dear Parents / Guardians,
Ardnashee School and College is a controlled school for children and young people aged between 3 and 19 years, living in Derry and the surrounding district. The school provides a 16 year continuity of education and pastoral care for pupils with learning difficulties and associated disabilities. There are places for up to 270 pupils. High staffing ratios and excellent teaching facilities mean staff can promote a high standard of learning.
Our school web site allows us to share the work we are involved in as a school community and to show the positive and varied contributions our pupils are making, not only to Ardnashee School and College, but to their families, communities and their city......
Information on the Covid-19
Ardnashee School, 15 - 17 Racecourse Road Derry/Londonderry N. Ireland BT48 7RE | Email: info@asc.lderry.ni.sch.uk
Lower Campus T: +44 (0)28 7126 3270 | F: +44 (0)28 7126 4017 | Upper Campus T: +44 (0)28 7135 1266 | F: +44 (0)28 7135 1125